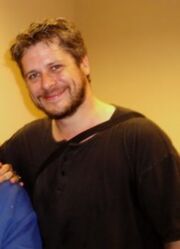 James Hadley Snyder 
(born on 7 February 1975 in San Rafael, California), also credited as 
Dan Green 
or 
Jay Snyder
, is an American voice actor, voice director and script adapter who is one of 
4Kids Entertainment
's most famous voice actors due largely to his dual roles as Yugi Muto/Yami Yugi and Atem in
Yu-Gi-Oh!
 and 
Yu-Gi-Oh! GX
 and Spike in 
Ape Escape 2
.
Voice acting career
A while prior to working at 4Kids, he worked on two adult animes.
He has voiced Knuckles the Echidna since being cast in the role for Sonic X. He also voices Mephiles (in Sonic the Hedgehog), Vector (since Mario & Sonic at the Olympic Games), Storm the Albatross, as well as Professor Pickle and theIce Cream Vendor (in Sonic Unleashed).
However, in 2010, with the switch in voice actors, Travis Willingham took over as the voice of Knuckles and Storm, and Keith Silverstein now voices Vector.
On 25 November 2011, Green lost his wife, Michal, during childbirth to twins. The voice actor of Dr. Eggman,Mike Pollock, to help support Green, set up a website appealing to the fans of Green's work for donations to help him with his new children. A second website also exists.
Trivia
At a convention called Sonicon in November 2010, Mike Pollock had called Dan on the phone who answered a few questions: the first being he had also auditioned for Dr. Eggman and even did his own take on Eggman, second being that during the Knuckles audition had watched cutscenes from Sonic Adventure and Sonic Adventure 2 to study Knuckles and had even emailed Scott Drier to help him out with Knuckles, third being that next to Yugi, Knuckles is his second favorite role.