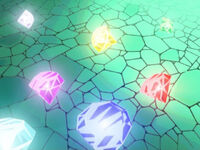 Chaos energy[1][2][3] is a force that appears in the anime series Sonic X and its comic series published by Archie Comics. It is a type of mystical energy that is generated by the Chaos Emeralds and Master Emerald.
Description
Chaos energy is a mystical energy that can only be found within the Chaos Emeralds and Master Emerald. This energy can be used for a number of applications, from being able to power machinery, to empowering beings or warping time and space itself. By tapping into chaos energy, it is possible for individuals to gain access to unique abilities such as Chaos Control, or to achieve transformations such as Super Sonic or Perfect Chaos. These transformations greatly increase the innate powers of the individual and also provide them with new abilities. By using Tikal's Prayer, it is possible to increase one's access to chaos energy.[4][1]
It is also shown that chaos energy can take a liquid state, evidenced by Chaos. Because Chaos is made of liquid chaos energy, it is able to utilize Chaos Powers without the need for a Chaos Emerald.[1]
The energy within the Emeralds is also needed to create Rings, which hints at the possibility that Rings contain chaos energy.[5]
Trivia
See also
Chaos energy (disambiguation)
References